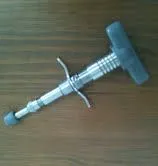 Chiropractic Adjustments are the specific movement of vertebrae in the spine. The purpose of this movement is to realign and balance structure as well as relieve nerve pressure. These misalignments can be the result of a number of reasons ranging from normal daily activity to trauma, such as a car accident.
When vertebrae are out of place, there is an adverse body effect to the muscular and central nervous system. The human body functions with a brain cell to tissue cell connection. Our goal is to remove interferences to that brain cell to tissue cell pathway, so that the body can be pain-free and function normally again.
An adjustment in our office is done with a hand-held instrument in a gentle manner to move spinal vertebrae or extremity joints back into proper alignment.
Adjustments are an excellent way to keep the body functioning at its highest level. When the structure of the body is in alignment, the improved spinal function maximizes quality of life. See us - See Relief!
Appointment are walk-in; no waiting to get in. Why not stop in Today to get started? Click on the "Contact Us" tab above for a map from your current location to our office.